Tox-Away Day Guidelines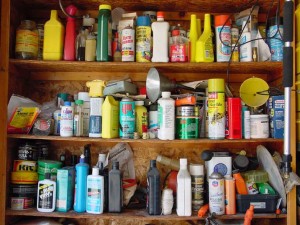 Tox-Away Days are opportunities for Hendricks County households to properly dispose of household hazardous waste (HHW), tires, electronics and appliances.  All HHW (chemicals, auto fluids, fluorescent bulbs, batteries, pesticides, herbicides, etc.) is accepted from households free of charge.  Fees are charged for the recycling of televisions, appliances and tires (over a certain number).
Only residents of Hendricks County are allowed to utilize the District's Tox-Away Day events. Regulations prohibit hazardous wastes from other organizations (businesses, churches, schools, non-profits) from being accepted.  Please contact the District office if you have questions about your eligibility to participate in a Tox-Away Day event.

Please remember that latex paint should not be brought to Tox-Away Day for disposal
Since it is water-based, it is safe to dispose of with normal household trash once it's been solidified.  Latex paint can be solidified by mixing shredded paper, oil dry, clay-based cat litter or sand with the paint and allowing the mixture to harden. Once solidified, lids should be removed from paint cans so trash haulers can see that the paint has hardened.  If you have a lot of paint to solidify, line a sturdy cardboard box with a trash bag and alternate pouring your absorbant material and paint in the box.  Mix it well and let it solidify for a couple of days. Click here to view a paint drying demonstration video.
Household Hazardous Wastes are accepted for free during Tox-Away Day events.

Oil-based Paints/Stains/Varnishes
Pesticides/Herbicides/Fertilizers/Insecticides
Flouorescent Light Bulbs (tubes and CFL's)
Automotive Fluids/Fuels/Antifreeze/Oil Filters
Pool/Spa Chemicals
Adhesives
Acids
Drain Openers
Cleaners/Solvents
Mercury-containing items:  thermometers, thermostats
Fire Extinguishers
Propane Tanks
Batteries:  (alkaline, rechargeable, button, automotive)
Unwanted Medicines
Sharps (lancets, syringes)

Problem Wastes are also accepted during the Tox-Away Day events.  Some fees may apply.
ELECTRONICS

Televisions:

Small:  $20 each
Large/Console:  $25 each

Computers:  Free
Monitors:  Free
Printers/Scanners:  Free
DVD/CD Players: Free
Stereo Equipment:  Free
VCRs:  Free
Cell Phones:  Free
GPS Systems:  Free

APPLIANCES

With Refrigerant:  $10 each
Without Refrigerant:  $5 each

TIRES

 (additional fees may apply if tires are on rims)
The following materials should not be brought to Tox-Away Day for disposal: Used Motor Oil (
local oil recyclers
), Latex Paint (see above), Asbestos, Lab Chemicals, Explosives, Ammunition, Firearms, Radioactive Material, Infectious Waste & Medical Wastes.