Recycling Drop-Off Centers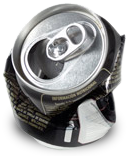 The District operates 24-hour Recycling Drop-off Centers located in Lizton (map), Coatesville (map), Stilesville (map) and now, North Salem (map).
Residents are encouraged to consider subscribing to curbside recycling service through a private recycling provider. Regulations prohibit the District from locating Recycling Drop-off Centers in geographical locations where curbside recycling is available. Currently, Ray's Trash Service and Republic Services offer convenient curbside recycling service to much of Hendricks County.
Acceptable Items:
PAPER: Office paper, construction paper, newspaper, junk mail, magazines, catalogs, corrugated cardboard, telephone books, food boxes, shredded paper (must be bagged).
GLASS: Clear, brown and green glass that held food or beverages. (No ceramics, Pyrex, plate glass, or mirrors.)
STEEL: Any food container–it is okay to leave the labels on.
ALUMINUM: Beverage containers only.
PLASTICS: Plastic milk jugs, water bottles, detergent bottles, dishwashing soap bottles, shampoo bottles, medicine and vitamin bottles, as well as yogurt and margarine tubs, frozen concentrate juice containers, coffee cans, freezer microwave tray, berry boxes, salad/carry-out boxes are all acceptable.  All containers should be rinsed, but don't have to be spotless. Please, no polystyrene (Styrofoam), shopping bags, plastic film or wraps. Do not recycle containers that held motor oil, pesticides, herbicides or other hazardous chemicals (containers that held cleaning products are acceptable).
CARTONS:  Gable top and aseptic cartons (think milk or juice cartons, juice boxes, broth boxes, wine boxes) are accepted.
Important Reminders:
*All recyclables should be loose in the recycling bins–no bagged materials (except for shredded paper).
*Cardboard should be broken down to conserve space in the bins.
*All food containers should be rinsed and lids removed and discarded.
Paper Retriever Program:
Paper Retriever bins are located throughout the community.  The bins can most often be found near schools and churches in the area.  Newspaper, office paper, junk mail, magazines and catalogs are accepted in the Paper Retriever bins and the not-for-profits that host the bins receive funding based on the amount of paper collected.