What is the proper way to dispose of unwanted medications?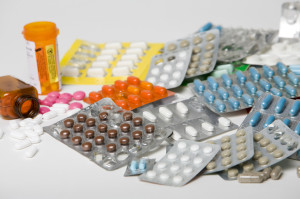 Our waterways are threatened when medications are flushed down a toilet or washed down a drain. Wastewater treatment plants are not designed to remove many of the chemicals that make up today's pharmaceuticals. Trace amounts of estrogen, anti-depressants, anti-epileptics and other pharmaceutical compounds are being detected in our streams and rivers.
Fortunately, the Avon, Brownsburg and Plainfield police departments, as well as the Hendricks County Sheriff's Department, provide unwanted medicines drop boxes in the lobbies of their police stations for use by residents. The drop boxes are available when the police stations are open (during normal business hours).  No illicit drugs, syringes, lancets, needles, or thermometers are accepted in the program. Medicines should be left in their original containers. Personal information may be removed or blacked out, but the name of the drug, the prescribing pharmacy and original quantity prescribed should remain intact and readable. Click here to learn more.
Thanks to the Hendricks County Substance Abuse Task Force, the District is able to also accept unwanted medicines during its Tox-Away Days.